Biography Of MACRODOT: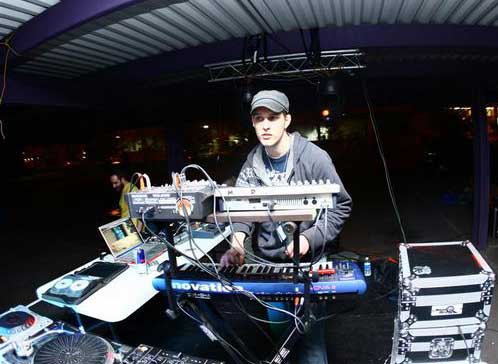 Aliases: Cimmerdyne, Kyle From Ohio, Aliens Killed the Dinosaur
Real Name: Kyle Macrodot
Resides In: The Resurrecting Phoenix, AZ USA
Grew up under: The Grey Ohio Skies, USA
Writing Music Since: 1994 Years after humans for some reason started thinking the sun was rising a bit more special than it did the previous billion years
Writing Electronic Music Since: 2000 Years after humans believed a magician was born
Labels: Binge, Bellarine, Reticent, Gravitas, Adapted, & MACRODOT
DJ / LIVE PA Style:
Genre: Dirty Progressive Melodic Glitchy Beats, Glitch, Glitch Hop
'Back in the Day' Style:
Genre: Progressive Breakbeats, UK Hard House, Heavy Metal, Alternative
Producer/Remix Styles:
Genres: Ambient, Breakbeats, Glitch, Progressive, Downtempo, Deepstep, Psystep, Chillstep, Glitch Hop
Biography:
MACRODOT consciousness began millions of years ago and many light years away in the area you now call the constellation of Lyra. Eventually this consciousness took bodily form and MACRODOT lived without ego for many lifetimes in this utopian society. But with all light, comes darkness, and eventually his home, his love, and his family were destroyed in the Galactic War. Reincarnating across the span of the universe and searching for the freedom he once had, his journey continues. Only one form of language can communicate this eternal longing: Music. The MACRODOT consciousness speaks to a yearning for a planet that will once again be remembered. Reawakening... Ego shrinking... Pain subsiding... MACRODOT Music.
Influences:
Lyra, Vega, Maldek, The stars, Nature, Rivers, Mountains, Rain, Sunsets, Wind, Ocean Waves, The Beach, Psychologists, Philosophers, Kevin Moore, Danny Carey, Johannes Brahms, Hybrid, Kilowatts, Amon Tobin, Trifonic, PhuturePrimitive, Stefan Anion, Burufunk, Trentemoller, RJD2, Plump DJ's, Boom Jinx, Carbon Community, Elite Force, Dylan Rhymes, Juno Reactor, Infected Mushroom, Adam Freeland, Rob Dougan, God Lives Under Water, Prodigy, Orbital, Gravity Kills, Stabbing Westward, Depeche Mode, Deftones, Portishead, Bjork, Radiohead, Crystal Method, BT, Nine Inch Nails, Way Out West, General MIDI, Meat Katie, Max Graham, Nick Sentience, Weirdo, Koma&Bones, Layo & Bushwacka
Accomplishments:
2002- Earned a Recording Engineer's Certificate from the Recording Workshop in Chillicothe, Ohio
2005 to 2009- Live PA breakbeat shows. See Tour page.
2008 to present- Glitchy Remix and album work. See Discography page.